Industrial land plots for development
Centrepoint Verne a.s.
CENTREPOINT VERNE a.s. was established for the purpose of owning and developing CENTREPOINT VERNE Industrial Park.
CENTREPOINT VERNE a.s. purchased 50 ha of industrial land at Verne industrial zone near the town of Chomutov, (North Bohemia, Czech Republic) and have prepared permits and infrastructure for light Industrial development. The area is currently zoned and serviced with all utilities.
The company activities include full range of responsibilities necessary for preparing and delivering client's requirements be it straightforward land purchase, project management or a turnkey delivery of a finished facility.
Area is located 12 km from Chomutov city on the highway R13.
Site Capability
Location
The site is located in the north-west of the Czech Republic with perfect accessibility to the German border.
there are 3 international companies already established within CENTREPOINT VERNE Industrial Park
an opportunity for industries with high demands on power consumptiion
total size of land plot available is 20 ha (49.4 acres)
no height restriction
70 : 30 construction and greenery ratio
all nets available
Surroundings
CENTREPOINT VERNE Industrial Park is located in the north-west of the Czech Republic within Ústí nad Labem region.
The surrounding is characterised by an established industrial sector within a triangle formed by Klášterec nad Ohří, Kadaň and Chomutov There is an excellent road connection to Germany via D7 motorway from Chomutov. Public transport is well developed with the nearest bus stops directly on the roundabout next to CENTREPOINT VERNE Industrial Park.
The land plot according to Klášterec nad Ohří zoning plan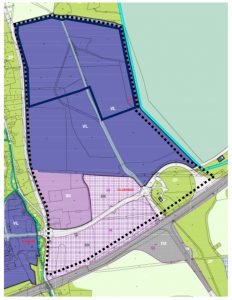 The zoning within the CENTREPOINT VERNE Industrial Park is fully "industrial" and "mixed commercial".
There is no height restriction on future industrial development.
Contruction-green area ratio 70% – 30%
Development site description
The development site of 20 ha has fully implemented infrastructure preparation  and is set up for industrial purposes (valid zoning plan)
The acquisition process is planned for one buyer for the whole 20 ha
There are the following energy supply possibilities:

off-grid connection directly from Prunéřov power station in case of high electricity consumption (up to 150 MW)
grid connection in case of smaller electricity consumption

According to the valid zoning plan, there is a possibility to plan and build 75 000 m2 industrial hall on the site.
Agriculture Land Protection Scale In The Czech Repubic
Agriculture Land Protection Comparison
CENTREPOINT VERNE Industrial Park
Infrastructure connection points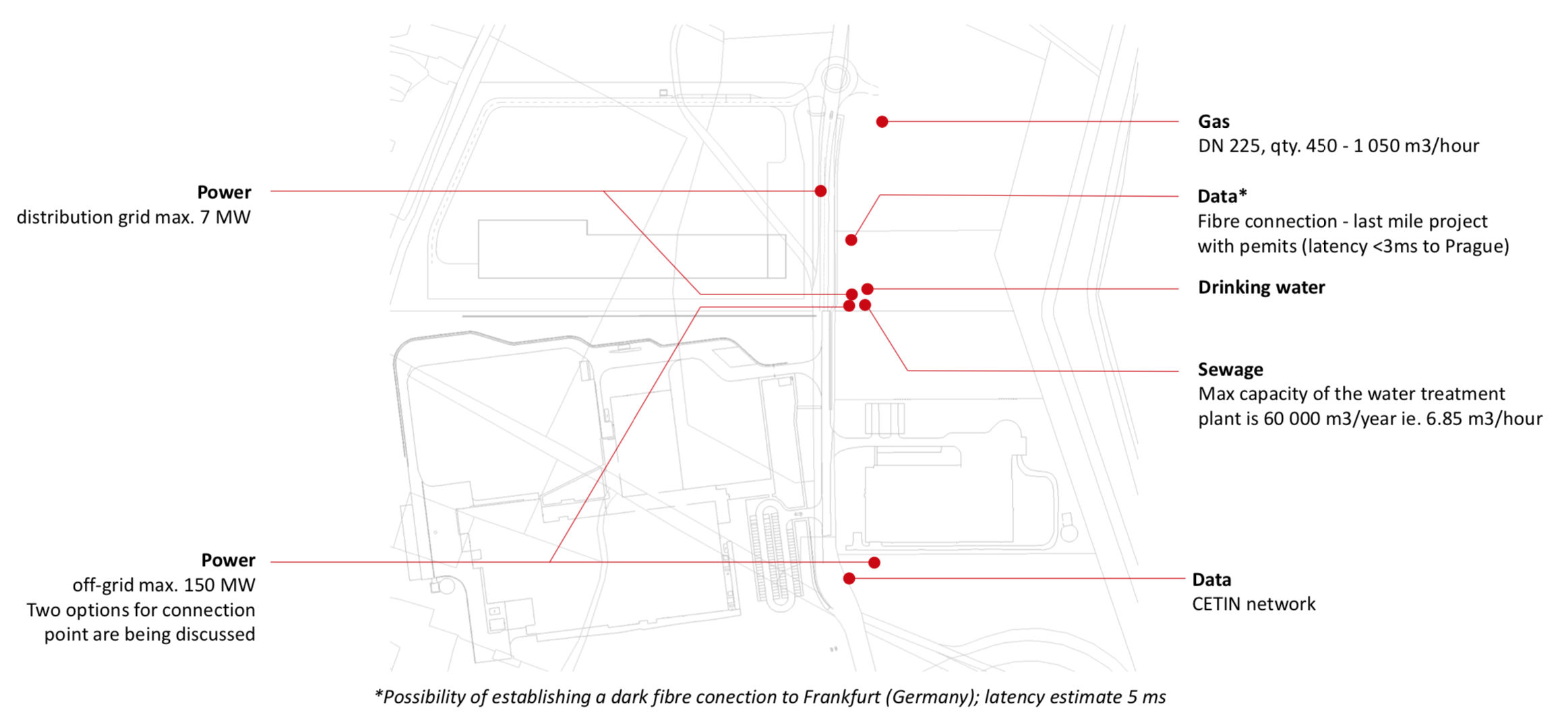 OFF-GRID POWER SUPPLY – Prime Source Of Power From ČEZ Prunéřov II Power Plant
CENTREPOINT VERNE Industrial Park is strategically located close to CEZ Power Plant Prunéřov II, providing a stable and economically attractive source of energy. Adjacent national transmission network provides resilience.
One of the largest power stations in the Czech Republic
Major investment completed for three new blocks with capacity 250 MW each
Power production secured for 25 years
Significant air pollution reductions (SOx -57%, NOx -59%, CO2 -31%)
Direct connection to power plant offers security of power supply
Lowest electricity price in the Czech Republic
Dedicated off-grid supply of up to 150 MW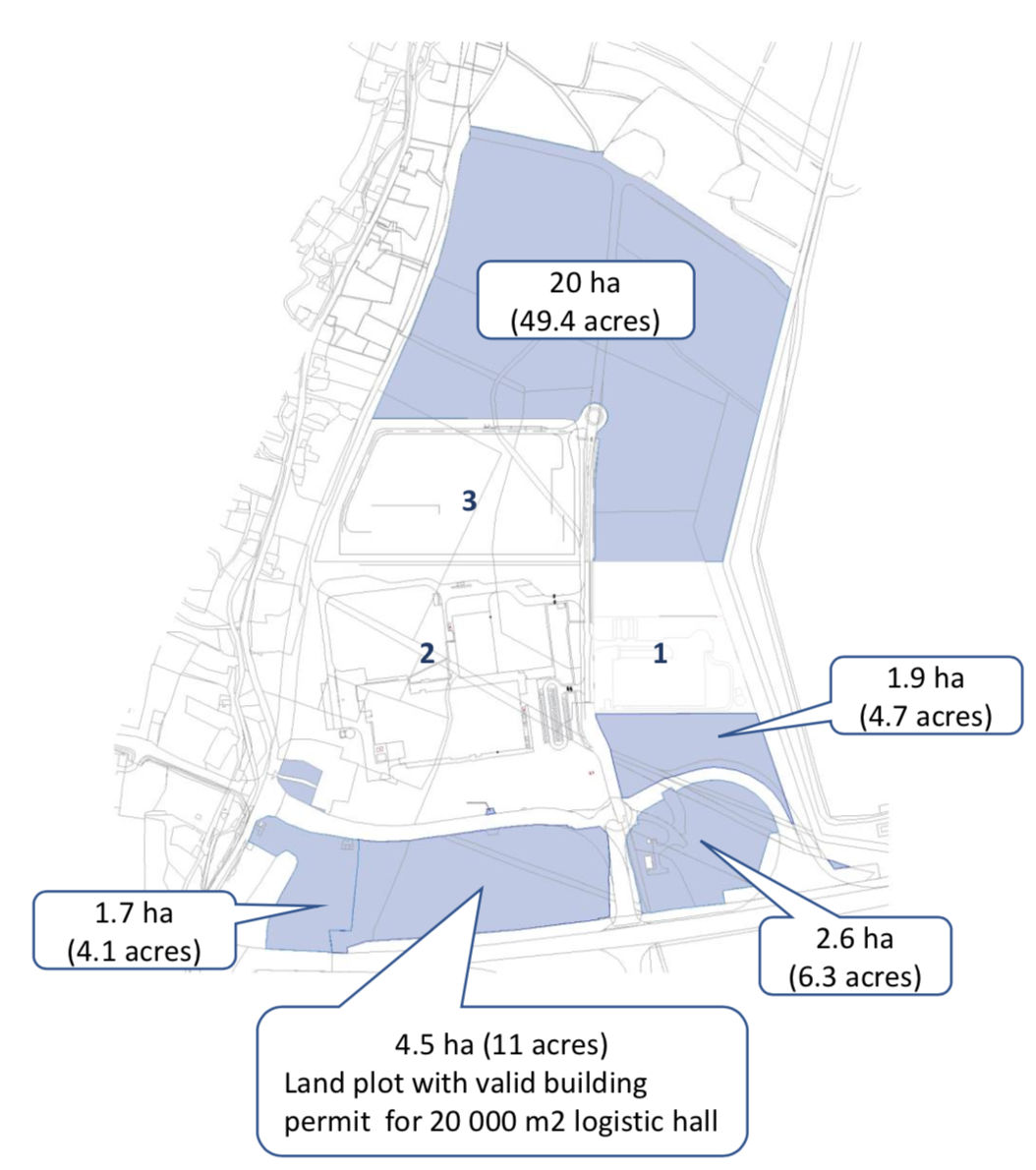 CENTREPOINT VERNE Industrial Park has the following three established companies on site:
Dräger s.r.o.
Leading international company in medical and safety technology
Benteler ČR s.r.o.
Global enterprise that develops, manufactures and delivers metal-based products, systems and services for the automotive, energy and engineering sectors
s.n.o.p. cz a.s.
Design and manufacturing of body in white, interior and engine compartment parts, design and production of press die casting